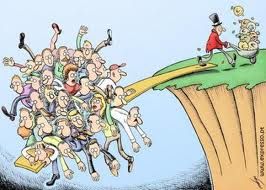 The New York Times
reports
that food companies are embarked on a "stealth" strategy to hike prices by significantly shrinking packages without changing the price. For example, canned vegetables are down to thirteen from sixteen ounces (one shopper observed that she found an eleven ounce can of corn recently). Sugar is now sometimes sold in four pound bags instead of five.
This is nothing new - food companies have repeatedly responded to weak economies and rising commodity prices in this way - although this is perhaps the first time that some companies are greenwashing their shrinkage. Proctor & Gamble, for one, is trumpeting its new smaller packages (priced about the same as the old, of course) as "'Future Friendly' products, which it promotes as using at least 15 percent less energy, water or packaging than the standard ones."
And don't forget the health claims! Fewer crackers in a package means fewer calories - you may pay more per cracker, but it's better for you!