Puppet Masters
Gerald Celente Loses It (and rightly so) - When This Man Acts Like This It Means - WAKE UP!!!!


---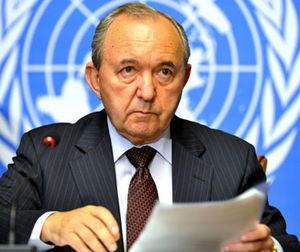 I spoke to Richard Goldstone several times after his eponymous
Report
came out, and it was obvious that the personal slander and vilification from so many in his own community was wearing him down. He was certainly naive and did not expect the excreta storm that would head his way.
He had always been a person of integrity and his
editorial
in the
Washington Post
, allegedly "retracting" the Report named after him is saddening. If it had appeared the day before, one would almost suspect it of being an April Fool's parody.
Indeed, the wording of the editorial, while confused and evasive, was eloquently indicative of heavy pressure -- not least since only two days before at a debate at Stanford University, he is reported as maintaining that "all the investigations showed that, thus far, the facts were as they were reported."
One cannot help wondering what happened in the next two days to change his mind.
Did his daughter, ex IDF and self-confessed Israeli patriot, pull the family chains?
It certainly betokens a personal tragedy, since it will detract from his reputation and integrity in the human rights and international law field, with no chance at all of earning the forgiveness of the rabid and vindictive Zionists who have been hounding him mercilessly for two years.
Indeed, reading the editorial reminded me of Comrade Rubashov in Arthur Koestler's
Darkness At Noon
-- a true believer doing one last duty for the group he had lived with for so many years. It reads like a "confession" rung out from someone trying to free hostages near and dear to him by giving the kidnappers what they want while trying to hold on to one's own integrity and dignity. Sadly, of course, those who attacked his morals and probity before, will never, ever forgive him for telling the truth originally -- and like Rubashov, he will be shown no mercy once his confession has served its purpose for the cause.
---
Look at two other wars our government is currently deeply involved in - because they show that the claims made for this bombing campaign can't be true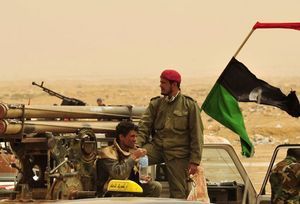 Most of us have a low feeling that we are not being told the real reasons for the war in Libya. David Cameron's instinctive response to the Arab revolutions was to jump on a plane and tour the palaces of the region's dictators selling them the most hi-tech weapons of repression available. Nicolas Sarkozy's instinctive response to the Arab revolutions was to offer urgent aid to the Tunisian tyrant in crushing his people. Barack Obama's instinctive response to the Arab revolutions was to refuse to trim the billions in aid going to Hosni Mubarak and his murderous secret police, and for his Vice-President to declare: "I would not refer to him as a dictator."
Yet now we are told that these people have turned into the armed wing of Amnesty International. They are bombing Libya because they can't bear for innocent people to be tyrannised, by the tyrants they were arming and funding for years. As Obama put it: "Some nations may be able to turn a blind eye to atrocities in other countries. The United States of America is different". There was a time, a decade ago, when I took this rhetoric at face value. But I can't now. The best guide through this confusion is to look at two other wars our government is currently deeply involved in - because they show that the claims made for this bombing campaign can't be true.
Imagine a distant leader killed more than 2,000 innocent people, and his military commanders responded to evidence that they were civilians by joking that the victims "were not the local men's glee club". Imagine one of the innocent survivors appeared on television, amid the body parts of his son and brother, and pleaded: "Please. We are human beings. Help us. Don't let them do this." Imagine that polling from the attacked country showed that 90 per cent of the people there said civilians were the main victims and they desperately wanted it to stop. Imagine there was then a huge natural flood, and the leader responded by ramping up the attacks. Imagine the country's most respected democratic and liberal voices were warning that these attacks seriously risked causing the transfer of nuclear material to jihadi groups.
---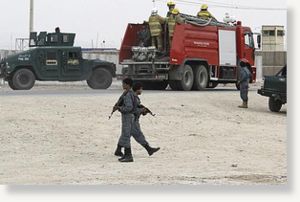 Suicide bombers and gunmen have stormed a police compound in southern Afghanistan, killing six members of the Afghan security forces.
Afghan officials say at least three insurgents attacked the complex in Kandahar province Thursday, waging a gun battle with security forces for several hours before being killed.
Witnesses say American Black Hawk Helicopters circled overhead and NATO armored vehicles responded to the assault, which killed members of the Afghan intelligence service, army and police. At least 12 people were wounded.
The Taliban claimed responsibility for the attack which took place near the main highway that connects Kandahar city with the Afghan capital, Kabul.
Also Thursday, NATO said coalition and Afghan troops killed an Afghan border policeman who shot and killed two American soldiers earlier this week in Maymana, the capital of northern Faryab province.
---
U.S. officials say the nation's health system is ill-prepared to cope with a catastrophic release of radiation, despite years of focus on the possibility of a terrorist "dirty bomb" or an improvised nuclear device attack.
A blunt assessment circulating among American officials says, "Current capabilities can only handle a few radiation injuries at any one time." That assessment, prepared by the Department of Homeland Security in 2010 and stamped "for official use only,'' says "there is no strategy for notifying the public in real time of recommendations on shelter or evacuation priorities."
The Homeland Security report, plus several other reports and interviews with almost two dozen experts inside and outside the government, reveal other gaps that might increase the risks posed by a nuclear accident or terrorist attack.
One example: The U.S. Strategic National Stockpile stopped purchasing the best-known agent to counter radioactive iodine-induced thyroid cancer in young people, potassium iodide, about two years ago and designated the limited remaining quantities "excess," according to information provided by the
U.S. Centers for Disease Control
and Prevention to ProPublica. Despite this, the CDC Web site still lists potassium iodide as one of only four drugs in the stockpile specifically for use in radiation emergencies.
The drug is most effective when administered before or within hours of exposure. The decision to stop stockpiling it was made, in part, because distribution could take too long in a fast-moving emergency, one official involved in the discussions said. The interagency group that governs the stockpile decided that "other preparedness measures were more suitable to mitigate potential exposures to radioactive iodine that would result from a release at a nuclear reactor," a CDC spokesperson said in an e-mail to ProPublica.
---
Unit would protect private sector firms and gov agencies
Israel is mulling the creation of a counter-cyberterrorism unit designed to safeguard both government agencies and core private sector firms against hacking attacks.
The proposed unit would supplement the efforts of Mossad and other agencies in fighting cyberespionage and denial of service attacks. Israel is, of course, a prime target for hackers from the Muslim world.
The country's hi-tech industries also make it an interesting target for cyberespionage from government-sponsored hackers from China and elsewhere. Spear-phishing attacks featuring targeted emails, custom malware and subsequent hacking action have been in the news over recent weeks, in the wake of cyberattacks against EU agencies and oil-prospecting multinationals, to quote just two recent threats.
Major General Isaac Ben-Israel, former head of the Defence Ministry's administration for the development of weapons and technological infrastructure, the main candidate to lead Israel's cyber-defenders,
reportedly
met with local and international experts for a brainstorming strategy development session late last year.
---
Karl Vick
Time
Wed, 06 Apr 2011 16:20 UTC
About ten hours before a warplane roared down the Red Sea, crossed into Sudanese airspace and let fly a missile at a sedan, killing both of the people inside, Maj. Gen. (ret.) Amos Gilad offered a piece of advice about secret military actions to audience of diplomats and journalists in a Jerusalem hotel.

"Never boast," Gilad said. "Be humble. Be modest. Do it, what you have to do. Don't talk.''

The topic was Iran's nuclear ambitions, and what Israel might do military to impede them. As director general of political-military affairs for Israel's defense ministry, Gilad may be the person in Israel in the best position to answer, but he demurred on the grounds that saying things in public tended to impede the ability to do them. So it is that when asked about the Stuxnet worm that wreaked havoc with Iran's centrifuges at the Natanz nuclear facility, or the assassinations of Iranian nuclear scientists on their way to the office, Israeli officials limit themselves to a knowing smile and a "no comment."

Comment: Amazing how much can be revealed about the psychopathic nature of Israel, even in "cheer-leading the Zionist state" pieces like this one.


---
Ken O'Keefe
YouTube
Mon, 04 Apr 2011 14:15 UTC
During Operation Cast Lead Israel committed massive war crimes for all the world to see. Among these crimes the use of White Phosphorus in densely populated areas, use of Depleted Uranium, bombing civilian targets of all sorts without military necessity, destroying civilian infrastructure with no military justification and the infamous massacre of the Samouni family... among many other crimes.

In the aftermath of Cast Lead, Justice Richard Goldstone, a Zionist Jew, was commissioned by the United Nations to write a report on the alleged war crimes. Although the report did not go nearly far enough in exposing the brutality of all the crimes committed, crimes committed by the fourth largest military in the world against a essentially defenceless and captive population, it did allege that Israel (and Hamas) was almost undoubtedly guilty of war crimes and possibly, crimes against humanity.

But on April 1st, 2011 Justice Goldstone had an apparent change of heart and effectively said that he was wrong. With regard to the Samouni family he said, Israel simply made a mistake. It seems that the world in which we live in, a world of impunity for the favoured Israeli state, is set to continue. Unless of course we the people decide enough is enough.



Comment: By all accounts Judge Goldstone tried to make as fair and unbiased report on Operation Cast Lead in Gaza, as was possible in the aftermath of the invasion. One wonders what pressure was brought to bear by the Zionist regime to recant now?


---
Israeli defense exports for 2010 are expected to match the all-time high reached in 2009, according to Defense Ministry officials. The record year of 2009 saw exports reach $7.4 billion.

Based on calculations of new orders from Israeli defense companies, the export totals for 2010 exceeded $7.3 billion and will probably match those of 2009 once figures for support and follow-on contracts are finalized.

Some 80 percent of all Israeli defense production is sold on the export market. The country's export order totals have steadily grown, reaching $3.5 billion in 2005, $4.9 billion in 2006, $5.6 billion in 2007, and $6.6 billion in 2008.
---
Will remain tiny compared to inventory of obsolete crap
The UK expects to double its fleet of "Reaper" robot hunter-killer aircraft, according to the machines' manufacturer.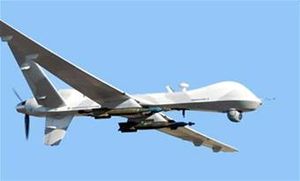 General Atomics, which developed the famous Predator drone warplane and its bigger successor the Predator-B/Reaper, announced last week that it is opening a new office in London to support the British Reaper fleet. The company says that it has thus far supplied six of the robot aircraft to the UK forces - though one of these crashed and was
destroyed in Afghanistan
three years ago.
The company announcement adds that the UK Reaper fleet is "expected to nearly double in size over the next few years". Presumably this might indicate that the Ministry of Defence (MoD) expects to field as many as ten roboplanes in the near future.
---