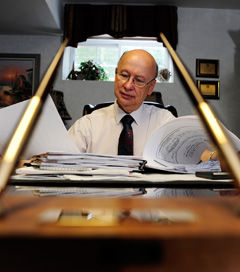 Where did all the jobs go? Small and medium-sized businesses are the major source of new job creation, and they are not hiring. Startup businesses, which contribute a fifth of the nation's new jobs, often can't even get off the ground. Why?
In a June 30
article
in
The Wall Street Journal
titled "Smaller Businesses Seeking Loans Still Come Up Empty," Emily Maltby reported that business owners rank access to capital as the most important issue facing them today; and only 17 percent of smaller businesses said they were able to land needed bank financing. Businesses have to pay for workers and materials before they can get paid for the products they produce and for that they need bank credit; but they are reporting that their credit lines are being cut. They are being pushed instead into credit card accounts that average 16 percent interest, more than double the rate of the average business loan. It is one of many changes in banking trends that have been very lucrative for Wall Street banks, but are killing local businesses.
The Travesty of the $1.6 Trillion in "Excess Reserves"
The bank bailout and the Federal Reserve's two "quantitative easing" programs were supposedly intended to keep credit flowing to the local economy; but despite trillions of dollars thrown at Wall Street banks, these programs have succeeded only in producing mountains of "
excess reserves
" that are now sitting idle in Federal Reserve bank accounts. A stunning $1.6 trillion in excess reserves has accumulated in bank reserve accounts since the collapse of Lehman Brothers on September 15, 2008.