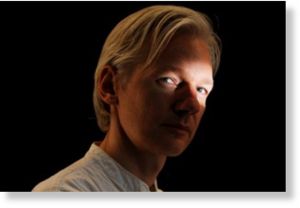 When Nashville-based photographer Allen Clark left for Europe in mid-June, he had no idea that he would soon find himself face-to-face with one of today's most controversial figures, WikiLeaks editor Julian Assange. An introduction through a mutual friend led to an unlikely friendship, and three days of rare and unprecedented access leading to an exclusive photo shoot in his home on June 22, 2011.
"Julian granted me a tiny peek behind the curtain where he has been living for this past year," says Clark. "Being a photographer has awarded me the luxury of meeting some interesting people over the years. I see myself as an observer who tries to remain neutral, so that I don't get in the way of a great portrait. But what I discovered was that Julian isn't the demon most people would want you to believe, and I found him to be very caring and kind to those around him. Protective, yes. But for someone in his position, I understand. People like their secrets, and they are not happy when you expose them."
Assange, who has been targeted by multiple governments for releasing large amounts of sensitive information via WikiLeaks, adamantly denies Swedish Judicial Authority claims that he committed sexual offenses in Sweden. Assange remains under house arrest at an undisclosed location in England, awaiting an extradition appeal hearing set for July 12-13, 2011 at the High Court in London.