Puppet Masters
---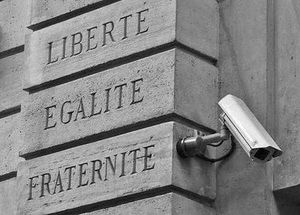 The French parliament yesterday adopted Europe's toughest anti-sect legislation yet, creating a controversial
new crime of "mental manipulation"
punishable by a maximum fine of £50,000 and five years imprisonment.
The move was applauded by Alain Vivien, head of a government committee that has identified 173 dangerous quasi-religious groups in France, but was denounced by both the Church of Scientology and the Unification Church as fascist, anti-democratic and in breach of basic human rights laws.
Current French law, described as "inadequate to deal with increasingly sophisticated and manipulative groups" by Catherine Picard, one of the MPs who proposed the bill, allows sect activities to be caught by prosecutions for traditional crimes such as incitement to murder, sexual assault, fraud and the abuse of a vulnerable individuals.
The new law allows judges to order the dissolution of any sect whose members are convicted of a criminal offence. It also bans sects from advertising, and prohibits them from opening missions or touting for new members near schools, hospitals or retirement homes.
---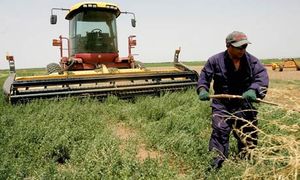 Many of world's poorest 'being left worse off by unprecedented land deals', despite claims by governments and speculators.
The scale of the rush by speculators, pension funds and global agri-businesses to acquire large areas of developing countries is far greater than previously thought, and is already leading to conflict, hunger and human rights abuses, says Oxfam.
The NGO has
identified 227m ha (561m acre ha) of land
- an area the size of north-west Europe - as having being reportedly sold, leased or licensed, largely in Africa and mostly to international investors in thousands of secretive deals since 2001. This compares with about 56m ha identified by the World Bank earlier this year, again predominantly in Africa.
The new land rush, which was triggered by food riots, a series of harvest failures following major droughts and the western investors moving out of the US property market in 2008, is being justified by governments and speculators in the name of growing food for hungry people and biofuels for environmental benefit.
---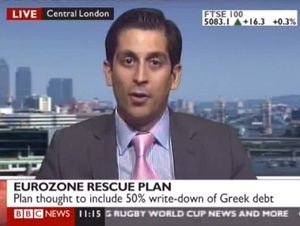 'We don't really care whether they're going to fix the economy, our job is to make money from it'

Twitter users claim Alessio Rastani is a member of 'Yes Men' hoaxers
The 'trader' at the centre of a controversial interview, in which he claimed the City just 'loves' a economic disaster, was today accused of being a hoaxer.
Twitter users took to the social networking site to 'out' the City trader as an imposter and claimed he was a member of a group of hoaxers, hours after an astonishing interview on the BBC.
Interviewers were left open-mouthed as Alessio Rastani admitted that traders 'don't really care that much' about the prospect of an economic collapse.
He astonished BBC viewers yesterday by describing his hopes of profiting from a recession, adding: 'The governments don't rule the world - Goldman Sachs rules the world.'
Comment:
Watch the video
here
.
Typical mainstream media damage control to dismiss rare honesty about the corrupt capitalist financial system.
Seems the 'someone on twitter' argument can be used to dismiss anything these days.
---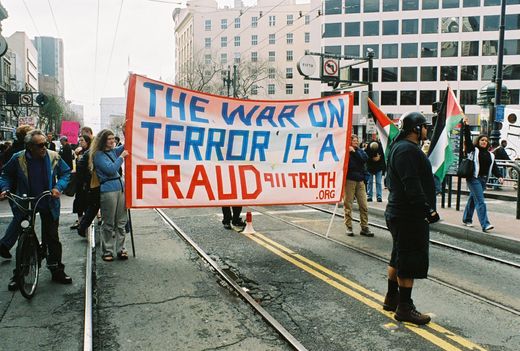 Six men in total - all from Birmingham - charged over terrorism offences after arrests in city last week
Three men from Birmingham who were arrested a week ago as part of a major operation by counter-terrorism police in the Midlands have been charged with plotting a suicide bombing campaign in the UK.
Two of them, Irfan Nasser and Irfan Khalid, aged 30 and 26 and from the Sparkhill and Sparkbrook areas, also face charges of making a martyrdom film, travelling to Pakistan for training in terrorism - including bomb making, weapons and poison making - collecting money for terrorism, and constructing a home-made explosive device.
Ashik Ali, 26, from Balsall Heath, was charged with collecting money for terrorism, stating an intention to be a suicide bomber, and involvement in recruiting others for terrorist acts.
---
Ari LeVaux
Alternet
Fri, 23 Sep 2011 15:59 UTC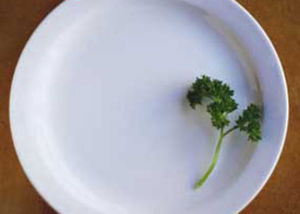 Private investment firms are betting on hunger, and their reasoning, unfortunately, is sound.
Residential real estate may be slumping, but ag land is booming. In Iowa, farmland prices have never been higher, having increased a whopping 34 percent in the past year, according to The Des Moines Register. The boom is driven in part by agribusiness expansion, but also by a new player in the agriculture game: private investment firms. Both are bidding up land values for the same reason: the price of food.
They're betting on hunger, and their reasoning, unfortunately, is sound. This is bad news for would-be small farmers who can't afford land, and much worse news for the world's hungriest people, who already spend
80 percent of their income on food.
Thanks to the world's growing population of eaters and the fixed amount of land suitable for growing food to feed them, supply and demand tilts the long term forecast toward higher prices. More immediate concerns - like increasing demand for grain-intensive meat and the rise of the corn-hungry ethanol industry - have fanned the flames of a speculative run-up in agricultural commodities like corn, wheat, and soy. Add cheap money to the mix in the form of low interest rates, along with an army of traders chasing the next bubble, and you've got a bidding war waiting to happen.
Comment:
For a much more in depth look at the issue of the 'virtual food grab', agricultural commodities and food commodity speculation read the excellent book by Lierre Keith
The Vegetarian Myth
.
In addition watch the video interview, in which Lierre Keith discusses the issue of industrial agriculture and it's documented negative effects on human health and our planet:
Lierre Keith on 'The Vegetarian Myth - Food, Justice and Sustainability'
We've been told that a vegetarian diet can feed the hungry, honor the animals, and save the planet. Lierre Keith believed in that plant-based diet and spent twenty years as a vegan. But in The Vegetarian Myth, she argues that we've been led astray--not by our longings for a just and sustainable world, but by our ignorance.

The truth is that agriculture is a relentless assault against the planet, and more of the same won't save us. In service to annual grains, humans have devastated prairies and forests, driven countless species extinct, altered the climate, and destroyed the topsoil--the basis of life itself. Keith argues that if we are to save this planet, our food must be an act of profound and abiding repair: it must come from inside living communities, not be imposed across them.

Part memoir, part nutritional primer, and part political manifesto, The Vegetarian Myth will challenge everything you thought you knew about food politics.
---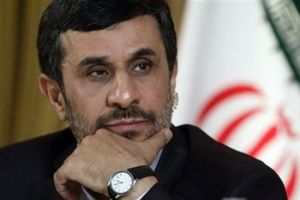 Iran's President Mahmoud Ahmadinejad censures US moves to threaten Tehran for urging the establishment of an independent truth-finding commission to probe the 9/11 incidents, instead of welcoming the effort.
"Last year, we called for the formation of a fact-finding commission with regards to this incident, but the US government, rather than welcoming the suggestion, threatened Iran," said President Ahmadinejad on Saturday in an interview with the Associated Press, quoted by Iran's presidential website.
"A number of airplanes cannot fly in American airspace and destroy two towers, without prior coordination with US intelligence or security agencies," he insisted.
---
aircraporg
YouTube
Mon, 19 Sep 2011 15:16 UTC
Robert Rowen, M.D., co-author of They Own It All (Including You!), briefly discusses Monsanto. Monsanto, according to Rowen, is the company that is responsible for putting toxic poisons on your food, depleting the soil, and have released the greatest environmental plague ever known to the planet: genetically altered organisms.


---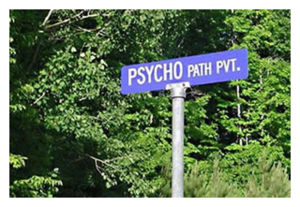 A report in
Der Spiegel
asks
why "rogue trading" situations "keep arising in the financial world."
The answer?
Take it away, jungen:
According to a new study at the University of St. Gallen seen by SPIEGEL, one contributing factor may be that stockbrokers' behavior is more reckless and manipulative than that of psychopaths. Researchers at the Swiss research university measured the readiness to cooperate and the egotism of 28 professional traders who took part in computer simulations and intelligence tests. The results, compared with the behavior of psychopaths, exceeded the expectations of the study's co-authors, forensic expert Pascal Scherrer, and Thomas Noll, a lead administrator at the Pöschwies prison north of Zürich.
"Naturally one can't characterize the traders as deranged," Noll says. "But for example, they behaved more egotistically and were more willing to take risks than a group of psychopaths who took the same test."
Oddly enough, the findings virtually mirror the outcome of a
2005 study
by a team of researchers from Carnegie Mellon University, Stanford Graduate School of Business, and the University of Iowa.
---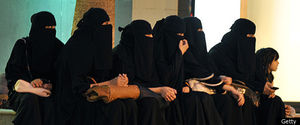 Cairo - A Saudi woman was sentenced Tuesday to be lashed 10 times with a whip for defying the kingdom's prohibition on female drivers, the first time a legal punishment has been handed down for a violation of the longtime ban in the ultraconservative Muslim nation.
Normally, police just stop female drivers, question them and let them go after they sign a pledge not to drive again. But dozens of women have continued to take to the roads since June in a campaign to break the taboo.
Making Tuesday's sentence all the more upsetting to activists is that it came just two days after King Abdullah promised to protect women's rights and decreed that women would be allowed to participate in municipal elections in 2015. Abdullah also promised to appoint women to a currently all-male advisory body known as the Shura Council.

Comment: Backwards! Medieval! Ghastly! we hear you say. And indeed, it is all those things. But please do bear in mind that it is against the law to even think about anything the state does not approve of in Western, 'civilised' France.


---