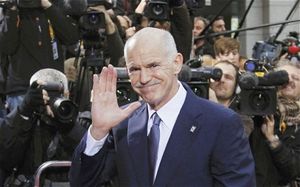 Global stock markets dropped sharply as investors sold off shares after Greece's shock decision to hold a referendum on its eurozone bail-out package thratened to intensify the region's debt crisis.
London's FTSE 100 index of leading shares dropped more that 2pc, with markets in Germany falling, France, Spain and Italy sliding between 2.7pc and 4pc.
Andrew Lim, banking analyst at Espirito Santo in London, said: "If Greek voters reject the unpopular bailout plan it could result in a "hard default", which could force banks to take losses of about 75pc on their Greek sovereign bonds,
trigger payouts on credit default swap insurance contracts
, and raise the threat of a systemic risk.
"If we get a hard default in Greece, it will exacerbate the situation with Italy and Spain. It just increases the problem of Italy going down the same route, and that's the real risk.
The fall in Europe followed big falls on Wall Street overnight and in Asia, with surveys showing China's manufacturing remained sluggish also weighing on sentiment.