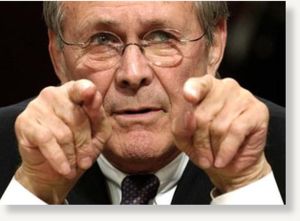 A federal appeals court ruled on Monday that former defence secretary Donald Rumsfeld could be sued for the torture of two US citizens.
The ruling from the 7th US Circuit Court of Appeals follows a similar decision by a federal judge to allow an army veteran who also alleges being tortured in Iraq to sue Mr Rumsfeld for damages.
Donald Vance and Nathan Ertel were working for Iraqi-owned security firm Shield Group Security in 2006
when they tried to alert the FBI to alleged illegal activities by the company.
After this they were detained by the army and claim that they were tortured over several weeks in military camps by sleep deprivation, being exposed to extremes of light and sound and by a process known as "walling," where subjects are blindfolded and slammed into walls on their way to interrogation sessions.