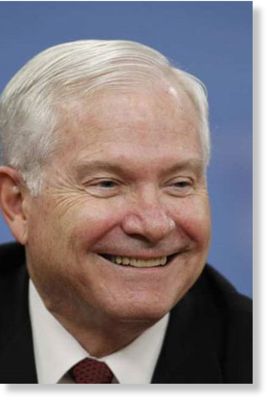 He served two presidents as a pragmatic, independent, non-ideological voice of reason.
Our leaders are not held in particularly high regard these days. Corruption, venality, ideological rigidity and self-serving politics have helped create a national atmosphere of discord and divisiveness and have helped push politicians and government officials down, down, down in the polls.
So it is worth taking note of Robert Gates, the U.S. secretary of Defense since late 2006, who is stepping down this week. Gates, a 67-year-old former CIA director, served in his current job under two presidents: George W. Bush and Barack Obama. And though the two were as different as two presidents could be, Gates served them both as a pragmatic, independent, non-ideological voice of reason, by all appearances driven less by self-promotion than by concern for the national interest and the common good.
He wasn't always one of our favorites. Back in the 1980s, Gates was a little too close to (but never indicted in) the Iran-Contra scandal, in which American officials traded arms for hostages in Iran and used the profits to fund the right-wing Contra guerrillas in Nicaragua. He was known as a hotheaded and impulsive Cold Warrior, a hard-liner against the Soviets and other governments of the left. He even advocated airstrikes against the Sandinista government in Nicaragua in 1984.
Gates has mellowed since then, but even now we don't agree with all of his positions, including his vehement campaign in recent weeks for only a "modest" reduction in troop levels in Afghanistan this year and next.