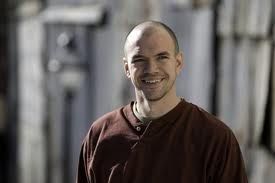 Tim DeChristopher is scheduled to be sentenced in a Salt Lake City courtroom by U.S. District Judge Dee Benson on July 26. He faces up to 10 years in prison and a $750,000 fine for fraudulently bidding in December 2008 on parcels of land, including areas around eastern Utah's national parks, which were being sold off by the Bush administration to the oil and natural gas industry. As Bidder No. 70, he drove up the prices of some of the bids and won more than a dozen other parcels for $1.8 million. The government is asking Judge Benson to send DeChristopher to prison for four and a half years.
Tim DeChristopherHis prosecution is evidence that our moral order has been turned upside down. The bankers and swindlers who trashed the global economy and wiped out some $40 trillion in wealth amass obscene amounts of money, much of it provided by taxpayers. They do not go to jail. Regulatory agencies, compliant to the demands of corporations, refuse to impede the destruction unleashed by the coal, oil and natural gas companies as they turn the planet into a hothouse of pollutants, poisoned water, fouled air and contaminated soil in the frenzied quest for greater and greater profits. Those who manage and make fortunes from pre-emptive wars, embrace torture, carry out extrajudicial assassinations, deny habeas corpus and run up the largest deficits in human history are feted as patriots. But when a courageous citizen such as DeChristopher peacefully derails the corporate and governmental destruction of the ecosystem, he is sent to jail.
"The rules are written by those who profit from the status quo," DeChristopher said when I reached him by phone this weekend in Minneapolis. "If we want to change that status quo we have to step outside of those rules. We have to put pressure on those within the political system to choose one side or another."