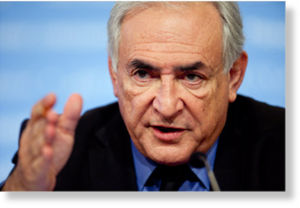 The sexual assault case against Dominique Strauss-Kahn is on the verge of collapse as investigators have uncovered major holes in the credibility of the housekeeper who charged that he attacked her in his Manhattan hotel suite in May, according to two well-placed law enforcement officials.
Although forensic tests found unambiguous evidence of a sexual encounter between Mr. Strauss-Kahn, a French politician, and the woman, prosecutors now do not believe much of what the accuser has told them about the circumstances or about herself.
Since her initial allegation on May 14, the accuser has repeatedly lied, one of the law enforcement officials said.
Senior prosecutors met with lawyers for Mr. Strauss-Kahn on Thursday and provided details about their findings, and the parties are discussing whether to dismiss the felony charges. Among the discoveries, one of the officials said, are issues involving the asylum application of the 32-year-old housekeeper, who is Guinean, and possible links to people involved in criminal activities, including drug dealing and money laundering.
Prosecutors and defense lawyers will return to State Supreme Court in Manhattan on Friday morning, when Justice Michael J. Obus is expected to consider easing the extraordinary bail conditions that he imposed on Mr. Strauss-Kahn in the days after he was charged.