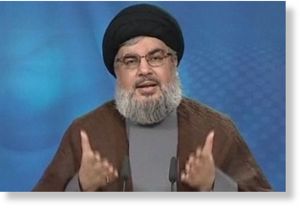 The Hezbollah leader says the US-funded Special Tribunal for Lebanon (STL) was established to turn world public opinion against the resistance and to foment sectarian strife in Lebanon.
Hezbollah Secretary General Seyyed Hassan Nasrallah made the remarks in Beirut on Saturday night during a televised speech in which he condemned the UN tribunal's decision to issue indictments for four Hezbollah members over the 2005 assassination of former Lebanese Prime Minister Rafiq Hariri.
The Hezbollah leader rejected the allegations that Hezbollah was involved in the assassination, saying the indictments were premeditated and politicized.
He went on to say that the STL is part of a new US plot to tarnish the image of the popular resistance movement.
He questioned the credibility of the tribunal and said those behind the "politicized" investigation are linked to US and British intelligence agencies.
Israel benefits the most from the US-backed tribunal, he stated.
Nasrallah said the evidence Hezbollah had presented earlier was sufficient to indict Israel for involvement in the attack that killed the former Lebanese prime minister.