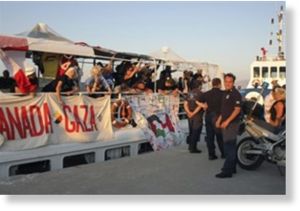 Canadian activists trying to deliver aid to the blockaded Gaza Strip have decided to put off their voyage for now.
Organizers announced the decision Saturday after the Canadian ship, known as the
Tahrir
, had been prevented from leaving a port in Greece for several weeks.
Greece has banned vessels heading to the blockaded strip, citing safety concerns.
After inspections and administrative delays, the Canadian ship tried to leave for Gaza on Monday but was quickly turned back to shore by the Greek coast guard.
Organizer David Heap, who was aboard the
Tahrir
, said he's disappointed the ship wasn't able to bring aid to Gaza.
But the group succeeded in drawing attention to the conditions there, he said.
"Obviously some individuals are disappointed," he told The Canadian Press in a phone interview from Greece on Saturday.
"But we have had remarkable success.. in getting this issue into the spotlight."