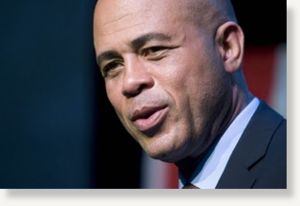 The presidential campaign of musician Michel "Sweet Micky" Martelly at first seemed like an afterthought, overshadowed by the short-lived run of the better-known star Wyclef Jean and dismissed as little more than a sideshow to an election that featured major Haitian political figures.
But Martelly, who has never held political office, turned out to be a serious, skilled and successful candidate. He captured nearly 68 per cent of the vote, defeating opposition leader and former first lady Mirlande Manigat, according to preliminary election results released Monday night.
When initial results of the flawed first round in November put him out of the race, Martelly mobilized supporters to protest as if he were a veteran of Haiti's rough politics, and a new count got him a spot in the March 20 runoff. He ran a disciplined campaign, deftly depicting himself as an outsider and neophyte even though he has long been active in politics.
Thousands of supporters danced and cheered in the streets after his victory was announced. They ran through the streets, climbed atop cars, and even fired automatic rifles in the sky. Carrying posters of his smiling face and bald crown, supporters showed up outside his gated compound in Petionville, a city in the hills above Port-au-Prince.
"Micky is a political animal, and the political establishment failed to realize how much of a phenomenon he is," said Garry Pierre-Pierre, editor and publisher of
The Haitian Times
, a New York-based newspaper. "This is a man who literally can get a million people to move to his groove."
Although Martelly supporters crowded outside his house, the pop-star-turned-candidate made no public statements except on Twitter, where he thanked his supporters and added: "We're going to work for all Haitians. Together we can."