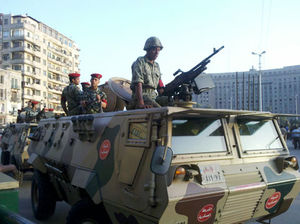 On Tuesday, the Egyptian military once again stormed Tahrir Square and violently dispersed a peaceful sit-in by demonstrators. At 17:00, the military drove onto the square with armoured vehicles, forcing protesters from the centre, and then occupied the area with heavily armed soldiers.
The military then proceeded to hunt down demonstrators and activists who had fled into downtown Cairo, carrying out numerous arrests. Among the special forces used in the attack was the notorious Unit 777, an "anti-terrorist" unit that regularly exercises with US units such as the Delta Force. The special forces stormed houses in downtown Cairo and combed cafes for protesters and activists.
The military had already begun to brutally clear demonstrators from Tahrir Square on Saturday morning, employing stun guns, batons and also live ammunition. Eye witnesses told the World Socialist Web Site that soldiers had fired directly at protesters and seven people had been killed. One of the victims was a young officer who had sided with protesters during mass protests on Friday.