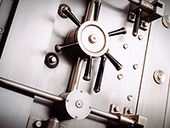 French banks and other lenders exposed to Greece and other weak euro zone countries slumped on Tuesday after Greece's leader said he would put a bailout plan to a referendum, raising the risk of a disorderly default.
The European bank index was down 6.1 percent at 133.2 points.
The index gave up all the gains made on Thursday, when banks staged their biggest rally for 18 months after EU leaders and banks agreed to write off half Greece's debt as part of a wider euro zone rescue plan.
If Greek voters reject the unpopular bailout plan it could result in a "hard default", which could force banks to take losses of about 75 percent on their Greek sovereign bonds,
trigger payouts on credit default swap insurance contracts
, and raise the threat of a systemic risk, said Andrew Lim, banking analyst at Espirito Santo in London.