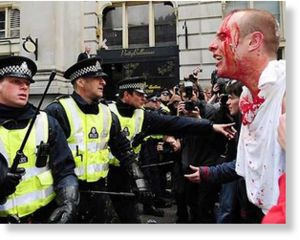 The events of the last 12 days are a warning to the working class in Britain and internationally. The state repression and right-wing hysteria unleashed in response to youth rioting in London and other cities reveal the preparations of the ruling class for police-state forms of rule.
The riots were triggered by the police execution of Mark Duggan, a black 29-year-old father of four, in Tottenham, north London on August 4, followed by an unprovoked police assault on a peaceful protest over his killing two days later. Almost a fortnight later, no officer has been identified, let alone charged, for these crimes.
Instead, the political elites who sanctioned the looting of public funds to bail out the banks and the super-rich, and who covered up the illegal phone hacking of Rupert Murdoch's media empire, have sought to whip up a lynch mob atmosphere against the "criminality" and "immorality" of working class youth.
Cheered on by the Labour Party, Prime Minister David Cameron and his Conservative-Liberal Democrat government have organized vicious state repression, authorizing the use of water cannons and plastic bullets and the possible use of the army against further social unrest.
Basic democratic rights have been thrown to the winds. The presumption of innocence has been jettisoned as police carry out mass arrests, with those detained subject to show trials presided over by courts acting directly at the behest of the authorities.