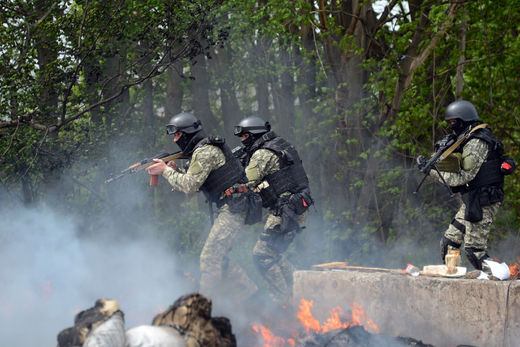 President Vladimir Putin warned
Ukraine
against continuing its anti-separatist offensive
after government troops killed five rebels and prompted Russia's military to begin new drills on the two nations' border
.
"If it's true that the current regime in Kiev sent the army against citizens inside its country, then it is
a very serious crime
against its own nation," Putin said today in St. Petersburg. "It will have
consequences for the people who make such decisions
, including relations between our countries. We'll see how the situation develops and we'll make conclusions based on the reality on the ground."
Ukrainian Interior Ministry and army troops destroyed three road blocks as they fought pro-Russian separatists in the Donetsk region city of Slovyansk, the ministry said today on its website.
Russia
's latest drills are a response to events in eastern Ukraine and involve warplanes near the border, Defense Minister Sergei Shoigu said, according to Interfax.