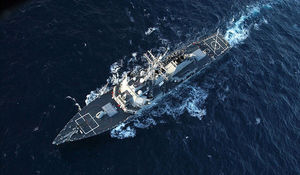 Russia has warned that Moscow may consider quitting the Strategic Arms Reduction Treaty (START) as the United States has deployed a ballistic missile destroyer to Spain.
Mikhail Ulyanov, the Russian Foreign Ministry's top disarmament official, said Sunday that if the US continues to enhance its anti-missile capabilities through NATO's missile defense shield in Europe, then Moscow may be forced to quit the START nuclear treaty.
"We are concerned that the US is continuing to build up missile defense capability without considering the interests and concerns of Russia," said Ulyanov.
"Such a policy can undermine strategic stability and lead to a situation where Russia will be forced to exercise [its] right of withdrawal from the [START] treaty," he added.
The warning came after US Defense Secretary Chuck Hagel announced on February 1 the deployment of Navy destroyer USS Donald Cook, equipped with the Aegis shipboard integrated combat weapons system, to Spain.