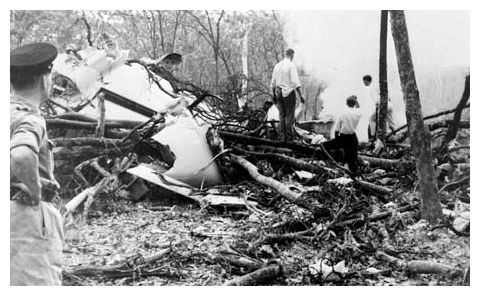 New evidence has emerged in one of the most enduring mysteries of United Nations and African history, suggesting that the plane carrying the UN secretary general,
Dag Hammarskjöld,
was shot down over Northern Rhodesia (now Zambia) 50 years ago, and the murder covered up by British colonial authorities.
A British-run commission of inquiry blamed the 1961 crash on pilot error and a later UN investigation largely rubber-stamped its findings. They ignored or downplayed witness testimony of villagers near the crash site which suggested foul play.
The Guardian
has talked to surviving witnesses who were never questioned by the official investigations and were too scared to come forward.
The residents on the western outskirts of the town of Ndola described Hammarskjöld's DC6 being shot down by a second, smaller aircraft. They say the crash site was sealed off by Northern Rhodesian security forces the next morning, hours before the wreckage was officially declared found, and they were ordered to leave the area.
The key witnesses were located and interviewed over the past three years by Göran Björkdahl, a Swedish aid worker based in Africa who made the investigation of the Hammarskjöld mystery a personal quest since discovering his father had a fragment of the crashed DC6.