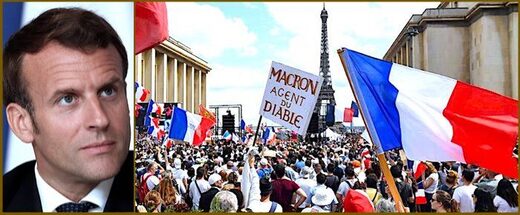 Thousands of protesters across France have rebelled against plans for COVID-19 passes
to enter restaurants and mandatory vaccinations for health workers.
However, three-quarters of the population support the idea.
French President Emmanuel Macron on Sunday called for "unity" in the country against a fresh COVID surge by asking citizens to get vaccinated after mass protests against his measures a day earlier.
About 160,000 people rallied
in Paris and around the country to demonstrate against
a bill that would require citizens who work in healthcare to get vaccinated,
while introducing COVID passes for entry to restaurants and cultural venues. Similar protests last weekend attracted more than 100,000 people.

Comment: More like 1-to-3 million people protested across France - and that just on Saturday. Protests are taking place in hundreds of towns and cities nationwide on a daily basis.