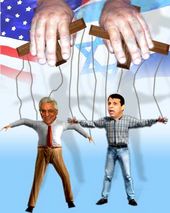 An alleged transcript purporting to show details of a plot to kill Yasser Arafat released to the media by a political adversary of Palestinian President Mahmoud Abbas is causing a major storm in the Palestinian areas.
According to the document, whose authenticity could not be verified independently, former Israeli premier Ariel Sharon suggested in a March 2, 2004 meeting with Abbas and his former security adviser Mohammed Dahlan that late and legendary Palestinian leader Yasser Arafat should be poisoned.
Abbas, according to the transcript, protested that this could cause 'serious difficulties.'
But he did not storm out of the meeting in shock.