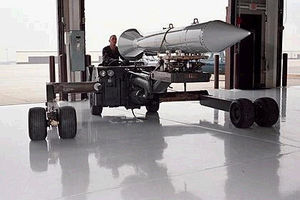 Part I - America's Planned Nuclear Attack on Libya
March 30, 2011
Barely acknowledged by the Western media, a planned attack on Libya using nuclear weapons, had been contemplated by the Clinton Administration in 1996, at the height of the Monica Lewinsky scandal.
The Department of Defense had developed a new generation of bunker buster tactical nuclear weapons for use in the Middle East and Central Asia:
"Military officials and leaders of America's nuclear weapon laboratories [had] urged the US to develop a new generation of precision low-yield nuclear weapons... which could be used in conventional conflicts with third-world nations." (Federation of American Scientists, 2001, emphasis added)
The B61-11 earth-penetrating weapon with a nuclear warhead had not been tested. It was part of the B61 series, coupled with a so-called "low yield" nuclear warhead.
According to US military sources: "If used in North Korea, the radioactive fallout [of the B61-11] could drift over nearby countries such as Japan."
(
B61-11 Earth-Penetrating Weapon
, Globalsecurity.org).
The B61-11 earth-penetrating version of the B61 was configured initially to have a "low" 10 kiloton yield, 66.6 percent of a Hiroshima bomb, for post-Cold War battlefield operations in the Middle East and Central Asia.