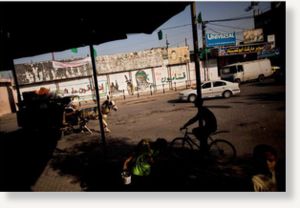 Israel and Hamas signaled on Sunday that they were willing to restore calm after days of intense fighting, and while militants in Gaza fired about 10 rockets and mortar shells into southern Israel, most fell in open areas close to the border and Israel did not immediately respond.
That represented a sharp reduction in activity since Hamas fired an antitank missile at an Israeli school bus on Thursday, critically wounding a 16-year-old boy and setting off Israeli aerial, artillery and tank fire against targets in Gaza that killed 18 Palestinians, 10 of whom were militants and the rest civilians, according to officials in Gaza.
Hamas and other militant groups fired about 130 mortar shells and rockets, including several mid-range ones, at southern Israel over the previous three days.
Israel's defense minister, Ehud Barak, said Sunday that Israel had received several messages indicating that Hamas, the militant Islamic group that controls Gaza, was interested in a cease-fire.
"If they stop firing on our communities, we will stop firing," Mr. Barak told Israel Radio.
Hamas spokesmen offered similar messages. Ghazi Hamad, the deputy foreign minister of the Hamas government in Gaza, told Israel Radio, "We are interested in calm in the Gaza Strip, but also that the Israeli Army cease operations against our people."
Salah al-Bardaweel, a Hamas spokesman, said that Israel appeared to have accepted the idea of reducing hostilities. "The factions will be committed to the lull as long as Israel is," Mr. Bardaweel said.