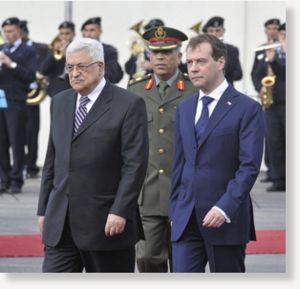 Jericho, West Bank - Russian President Dmitry Medvedev recognized Palestine as an independent state during a visit to Jericho.
Medvedev said since 1988 Moscow has recognized the need for a Palestinian state during his visit Tuesday to the Palestinian city. He said everyone including Israel will benefit from its establishment, Ynetnews.com said Wednesday.
"The Russian position hasn't changed, as I've told the president," Medvedev said. "Russia made its choice long ago, at the end of the '80s. We supported and will support the inalienable right of the Palestinian people to create its own state, which is independent, territorially integral and with a capital in East Jerusalem,"
The Jerusalem Pos
t quoted Medvedev as telling a news conference.
Israeli government officials told the English-language daily Medvedev refrained from explicitly calling for a Palestinian state along the 1967 borders. They said prior to the visit in Jericho, Israeli officials had contacted the Russian delegation and had received assurances there would be no change in Moscow's position, the newspaper said.
Palestinian negotiator Saeb Erekat welcomed Medvedev's statement, calling it "an historic move to make the Palestinians proud for a very long time."