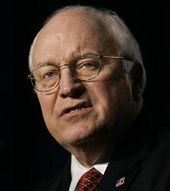 Lawyers and media pundits in Nigeria are accusing the government of acting illegally by agreeing to settle criminal bribery charges against Dick Cheney out of court.
Nigeria charged Cheney and applied for an Interpol arrest warrant earlier this month in connection with a $180-million bribery case. Cheney's former employer, Halliburton, reportedly
agreed to pay $35 million
to see the charges dropped.
But Nigeria could see as much as $250 million from the deal, in "the form of a deal to free up Nigerian money that had been locked away in Swiss bank accounts,"
The Nation
's John Nichols
reports
.
Critics of the deal say it has no basis in Nigerian law, which reportedly does not allow plea deals in criminals cases.
In a
letter
to Nigeria's anti-corruption watchdog, Osuagwu Ugochukwu, a prominent lawyer in Abuja, said the withdrawal of charges against Cheney was a breach of the law.