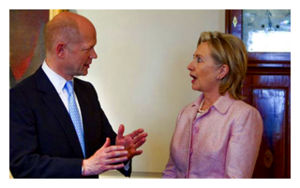 Hillary Clinton and William Hague claim arming rebel groups may be legal under the recent UN resolution
The US and Britain have raised the prospect of arming Libya's rebels if air strikes fail to force Muammar Gaddafi from power.
At the end of a conference on Libya in London, Hillary Clinton, the US secretary of state, said for the first time that she believed arming rebel groups was legal under UN security council resolution 1973, passed two weeks ago, which also provided the legal justification for air strikes.
America's envoy to the UN, Susan Rice, said earlier the US had "not ruled out" channelling arms to the rebels.
The British foreign secretary, William Hague, agreed that the resolution made it legal "to give people aid in order to defend themselves in particular circumstances".