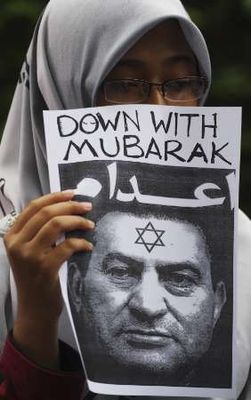 Jerusalem - Israel's prime minister said Sunday that his government is "anxiously monitoring" the political unrest in Egypt, his first comment on the crisis threatening a regime that has been one of Israel's key allies for more than 30 years.
Israeli officials have remained largely silent about the situation in Egypt, but have made clear that preserving the historic 1979 peace agreement is a paramount interest. The peace, cool but stable, turned Israel's most potent regional enemy into a crucial partner, provided security on one of its borders and allowed it to significantly reduce the size of its army and defense budget.
"We are anxiously monitoring what is happening in Egypt and in our region," Prime Minister Benjamin Netanyahu said before his Cabinet's weekly meeting.