British foreign secretary says WikiLeaks founder won't be allowed out of country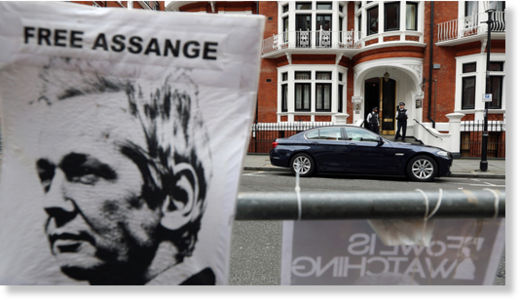 WikiLeaks founder Julian Assange has hailed the decision of the government of Ecuador to grant him political asylum, calling it "courageous."
Assange, a 41-year-old Australian, has been holed up in Ecuador's embassy in London since June 19, just 10 days before he was supposed to turn himself in to police.
He is trying to avoid extradition from the U.K. to Sweden, where he is wanted for questioning for alleged sexual misconduct. He has exhausted all his legal avenues in his bid to avoid extradition.
"It was not Britain or my home country, Australia, that stood up to protect me from persecution, but a courageous, independent Latin American nation," Assange said in a statement.
Speaking in Quito, Ricardo Patino, the foreign minister of Ecuador, announced the decision to grant Assange asylum. Patino said Assange faces the threat of political persecution including the possibility of extradition to the United States, where Patino said the Australian would not get a fair trial. Patino added that neither the U.K. nor Sweden would offer Ecuador assurances that Assange would not be turned over to another country.
"It is not impossible that he would be treated in a cruel manner, condemned to life in prison, or even the death penalty," Patino said. "Ecuador is convinced that his procedural rights have been violated."