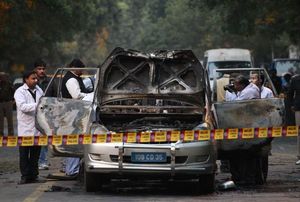 In "The Delhi Car Bombing: How the Police Built a False Case", a three-part series beginning today, award-winning investigative journalist Gareth Porter dissects the Delhi police accusation against an Indian journalist and four Iranians of involvement in the Feb. 13 bombing of an Israeli embassy car.
New Delhi police officials have released hundreds of pages of documents from their investigation into the Feb. 13 bombing of an Israeli Embassy car. The documents aimed to show that a well-known Indian Muslim journalist aided an Iranian conspiracy to plan and carry out the bombing.
But a review by IPS of the evidence filed in the case
suggests that the Indian journalist accused in the case has been framed by the police, at least in part to implicate the Iranians
in the terror plot.