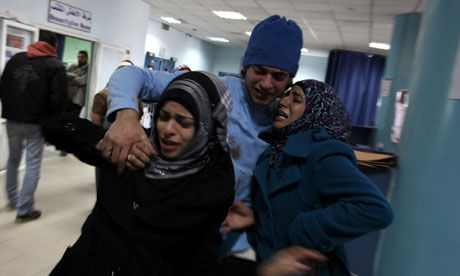 Samir Awad, 17, shot dead at separation barrier near Budrus where IDF says group of youths were trying to enter Israel.
A teenage boy was killed by Israeli soldiers on the separation barrier close to the West Bank village of Budrus yesterday, shot from behind as he was running away, according to Palestinian accounts.
Samir Awad, 17, was among a group of boys who had just completed an exam on the last day of school before a midterm break when they approached the barrier, reports said. The Israeli Defence Forces said the youths were "attempting to infiltrate into Israel", and its soldiers "responded immediately". It confirmed live fire was used.
According to villagers, Samir was grabbed by soldiers who were concealed in a trench. He broke free and was running away when a soldier or soldiers opened fire. He was hit by three or four bullets, in his head, torso and leg.
Ayed Morrar, a member of the village popular resistance committee, said: "
They shot him in cold blood, they shot him in the back. He wasn't threatening them."
He said there had been no stone-throwing at the time of the shooting.