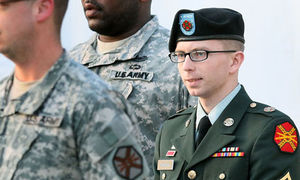 The 25-year-old Army Private, this generation's Daniel Ellsberg, pleads guilty today to some charges and explains his actions
In December, 2011, I wrote
an Op-Ed in the Guardian
arguing that if
Bradley Manning
did what he is accused of doing, then he is a consummate hero, and deserves a medal and our collective gratitude, not decades in prison. At his court-martial proceeding this afternoon in Fort Meade, Manning, as
the Guardian's Ed Pilkington reports
, pleaded guilty to having been the source of the most significant leaks to
WikiLeaks
. He also pleaded not guilty to 12 of the 22 counts, including the most serious - the
capital offense of "aiding and abetting the enemy"
, which could send him to prison for life - on the ground that nothing he did was intended to nor did it result in harm to US national security. The US government will now almost certainly proceed with its attempt to prosecute him on those remaining counts.
Manning's heroism has long been established in my view, for the reasons I set forth in that Op-Ed. But this was bolstered today as he spoke for an hour in court about what he did and why, reading from a prepared 35-page statement.
Wired
's Spencer Ackerman was there and
reported
:
"Wearing his Army dress uniform, a composed, intense and articulate Pfc. Bradley Manning took 'full responsibility' Thursday for providing the anti-secrecy organization WikiLeaks with a trove of classified and sensitive military, diplomatic and intelligence cables, videos and documents. . . .

"Manning's motivations in leaking, he said, was to 'spark a domestic debate of the role of the military and foreign policy in general', he said, and 'cause society to reevaluate the need and even desire to engage in counterterrorism and counterinsurgency operations that ignore their effect on people who live in that environment every day.'

"Manning explain[ed] his actions that drove him to disclose what he said he 'believed, and still believe . . . are some of the most significant documents of our time' . . . .

"He came to view much of what the Army told him - and the public - to be false, such as the suggestion the military had destroyed a graphic video of an aerial assault in Iraq that killed civilians, or that WikiLeaks was a nefarious entity. . . .

"Manning said he often found himself frustrated by attempts to get his chain of command to investigate apparent abuses detailed in the documents Manning accessed. . . ."