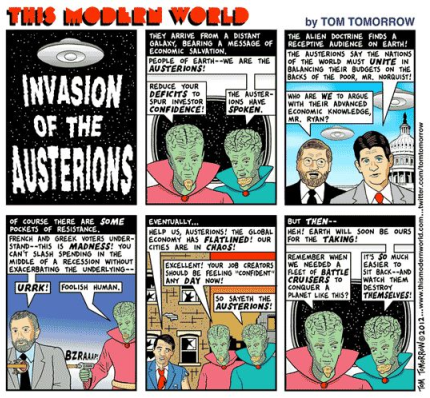 The coast is clear, the media tells us; economic disaster has been averted. The Euro Zone is finally stable and the U.S. economy is recovering. Whew!
Why, then, are government policies internationally still pursuing extremist measures? In the U.S., a third round of excess money printing - called Quantitative Easing - began recently in which banks are directly profiting by unloading their toxic mortgages on the Federal Reserve's balance sheet (another backdoor bailout paid by taxpayers).
After the U.S. presidential election, both Democrats and Republicans are committed to different versions of historic cuts to social services, education, Medicare, unemployment benefits, and very likely Social Security. This bi-partisan plan is often referred to as a "grand bargain," the details of which both parties are still haggling over.
In Europe things are no better. After the Euro Zone central bank promised investors its full backing to bailout all Euro Zone members - by printing money - the world economy sighed a heavy relief. But still the Euro Zone - along with the U.S. - is pursuing a two-pronged solution for an extreme economic crisis: austerity measures and the less-discussed "structural reforms."