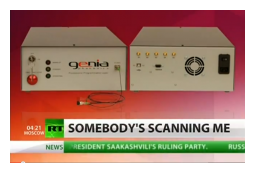 If you thought the x-ray scanners at the airport were bad, wait until you find out that TSA employees will soon know what you had for breakfast and how pumped you are to sit on a plane for twelve hours.
Unfortunately, you won't know what they know, because Homeland Security's new toy is capable of detecting every molecule on your person from over 164 feet (50 meters) away - without your permission.
CIA-Backed Company Develops New Scanners
"Within the next year or two, the U.S. Department of Homeland Security will instantly know everything about your body, clothes, and luggage with a new laser-based molecular scanner fired from 164 feet (50 meters) away. From traces of drugs or gun powder on your clothes to what you had for breakfast to the adrenaline level in your body - agents will be able to get any information they want without even touching you," reports Gizmodo.
The scanner was developed by Genia Photonics before being subcontracted by In-Q-Tel, a company founded in 1999 "by a group of private citizens at the request of the Director of the CIA and the support of the U.S. Congress." Although the technology is not new, In-Q-Tel made it exponentially faster and more convenient to use - which has its own implications.