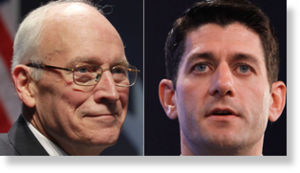 Former Vice President Dick Cheney doesn't want Paul Ryan to run for president - he likes the House Budget chairman too much.
"I worship the ground the Paul Ryan walks on," Cheney said Wednesday during a rare public appearance,
the Houston Chronicle
reported. "I hope he doesn't run for president because that would ruin a good man who has a lot of work to do."
Support for Ryan's
budget plan
, which includes an overhaul of Medicare, has become an early litmus test for the GOP presidential field. The plan was also a definitive issue in the special election in New York on Tuesday, where Democrat Kathy Hochul won one of the most Republican-friendly congressional seats in the country. Democrats have heralded that victory as a sign that Americans oppose Ryan's plan.