A "gigantic bank run" is imminent, so says Nobel Prize winner .
In his Nov. 1 post, the economist every one enjoys making fun of believes the endgame for the euro lies in the breadbasket of the European sovereign debt market, Italy, leading to one of two lynchpin countries, France, to collapse next. Then, it's bedlam.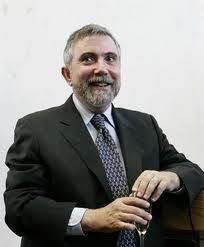 "The question I'm trying to answer right now is how the final act will be played," Krugman writes. "At this point I'd guess soaring rates on Italian debt leading to a gigantic bank run, both because of solvency fears about Italian banks given a default and because of fear that Italy will end up leaving the euro. This then leads to emergency bank closing, and once that happens, a decision to drop the euro and install the new lira. Next stop, France."
Krugman states the obvious, of course, but he offers no recommendation for Europeans to protect themselves from the all-but-certain currency devaluations as a result of a broken euro - not that he is expected to do so. But it's times like these, one would think that this quack of economics had a suggestion for Europeans to protect themselves from a currency collapse. Or maybe the collapse of euro is how Treasury will be able to fund its upcoming $628 billion offering in the coming five months without going to war in another part of the world, as he had once suggested. But in a previous post of Sept. 6, Krugman attempted to formulate a response to the "Glenn Beck" gold crowd - a response that Ben Bernanke could have used in response to Rep. Ron Paul's queries regarding gold.