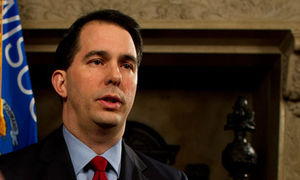 The Republican governor's budget plan would open the state up to a corporate asset-grab not seen since robber baron capitalism
On Wednesday evening, in a veritable Night of the Long Knives, Wisconsin's integrity was brutally murdered on the floor of the state Capitol in Madison. On 9 March, integrity and trust built up over a century was obliterated as Wisconsin state senators quickly reversed course and cleaved its budget "repair bill" in half. Financial items require a quorum, thus, collective bargaining was split off from the budget repair bill and voted on separately so as to permit its being voted on now. Even so, this still broke the state's open meeting law requiring 24 hours' notice to ensure transparency. Instead, the Wisconsin senate Republicans pulled out this new legislation without advance notice and began voting, leaving only a stunned Democratic legislator, Peter Barca, to read the open meeting law out loud to prevent the senators from voting. The senate voted over his objections anyway.
The Wisconsin brand has always centered on integrity. This was really about the only distinctive comparative advantage the state could lay claim to. Now, it is gone. With collective bargaining abolished, huge issues remain beyond labour. The privatisation of public assets is now on the agenda, with the yet-to-be-voted-on budget repair bill.