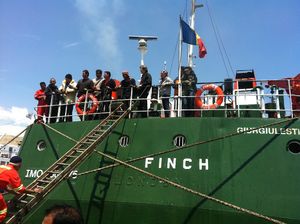 The
Spirit of Rachel Corrie
(officially known as
FINCH
) carrying a humanitarian cargo to Gaza was attacked by an Israeli naval patrol within the so-called Palestinian Security Zone on May 15, at 10.54pm EDT.
In the course of the last few hours, Global Research has communicated several times with the
Rachel Corrie
vessel en route to Gaza. What is provided below is a detailed update. An
earlier article
was posted at 12.30am EDT
The vessel left the Greek Port of Piraeus, on Wednesday, May 11. The humanitarian initiative is sponsored by the Perdana Global Peace Foundation (PGPF), chaired by the former Prime Minister of Malaysia Mahathir Mohamad.
Participating in this mission are anti-war activists and journalists, consisting of 7 Malaysians, 2 Irish, 2 Indians and 1 Canadian. The Centre for Research on Globalization (CRG) is a partner in this endeavor. Global Research's Julie Lévesque is on board the
Rachel Corrie
:
The cargo ship The Spirit of Rachel Corrie (officially known as FINCH) is carrying 7.5 kilometers of UPVC (plastic) sewage pipes to help restore the devastated sewerage system in Gaza. The ship was named after the courageous American activist who was crushed and killed by an Israeli bulldozer in 2003 while trying to prevent the demolition of another Palestinian home. She died at 23. ( Perdana's Second Press Release, Nakba and the Spirit of Rachel Corrie: Humanitarian Ship Attacked by Israel now within 1.5 nautical miles of Gazan Waters, Global Research, May 16, 2011)