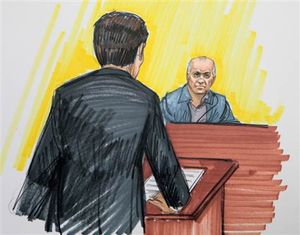 A Pakistani intelligence officer worked closely with top operatives of one of that country's leading terrorist groups to select the targets for the deadly November 2008 attacks in Mumbai, India, a former member of the terror organization testified on Monday.
The testimony of David Coleman Headley, a confessed
American-born
terrorist who once ran a popular bar in Philadelphia,
is likely to further inflame U.S.-Pakistani relations
, which are already strained because of the U.S. killing of Osama Bin Laden.
Headley testified as the federal prosecutors' lead-off witness in the trial of Tahawwur Rana, a Chicago businessman accused of aiding the Mumbai attacks. Headley described a close working relationship between Pakistan's ISI intelligence service and Lashkar-e-Taiba (LET), the anti-India militant group that is believed to have been behind the assault.
"They coordinated with each other and ISI provided assistance to Lashkar," Headley testified when asked by Assistant U.S. Attorney Dan Collins about the relationship between Lashkar and the Pakistani intelligence service.