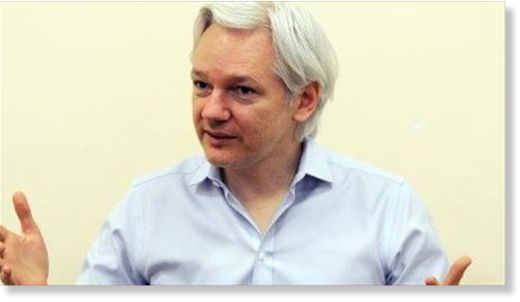 BBC Radio 4′s
Today
program has WikiLeaks founder in religious slot, as chosen by guest editor - musician PJ Harvey
WikiLeaks founder Julian Assange has used the unlikely platform of the religious slot on the BBC's
Today
program to condemn attempts by US and UK governments to acquire a "god-like" knowledge of citizens through mass surveillance.
Assange, who has been holed up in an embassy in London for more than a year, delivered a sermon about the importance of freedom of information, and liberating "hoarded knowledge", in an alternative
Thought for The Day
on the
Today
Program.
He said
disclosures
by the security contractor Edward Snowden about the scale of mass surveillance by the US and UK security services had exposed how governments and corporations seek to "know more and more about us" while "we know less and less about them".
Assange, who has been granted asylum by Ecuador but faces arrest if he leaves the country's London embassy, was chosen to appear by
Today's
guest editor, musician PJ Harvey, who introduced him as a "person of great courage". She said he had "opened a door to freedom that ought to be the essence of democracy".