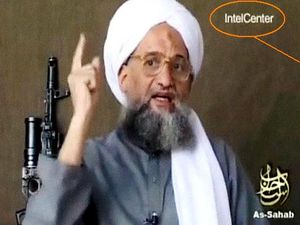 Cairo - Al-Qaida's deputy leader, Ayman al-Zawahri, issued the terror network's first message since the upheaval began in Egypt, saying the country's rule has long "deviated from Islam" and warning that democracy "can only be non-religious."
The wave of popular protests that ousted Egypt's president, Hosni Mubarak, appeared to have caught al-Qaida off guard. The terror group had long called for the destruction of Mubarak's regime - and al-Zawahri, an Egyptian doctor, was part of a militant uprising against Mubarak in the 1990s that was crushed.
But the demonstrations were led by secular, liberal activists calling for greater democracy - in stark contrast to the Islamic state that al-Zawahri and al-Qaida call for. In past videos and messages, al-Zawahri has frequent denounced democracy because it replaces God's laws with man's.
In the 34-minute videotape issued Friday,
al-Zawahri makes no mention on the protests or Mubarak's fall
. The video is dated to the Islamic lunar month of Safar, which corresponds with the dates Jan. 5-Feb. 3. It gives no more specific date for its creation.