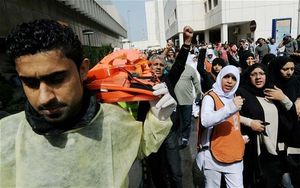 Escalating violence in the oil states of the Persian Gulf and North Africa have pushed Brent crude prices to a 30-month high of $104 a barrel, and raised widespread concerns over the stability of global oil supplies for the first time since the Mid-East turmoil began.
At least four protesters were killed in a bloody crack-down in Bahrain after tanks entered the capital and security forces smashed a tent city in the main square, opening fire with grapeshot. The situation is fraught with risk since a Sunni monarchy rules a Shia majority with mixed Iranian ancestry and sympathetic ties to Tehran.
"Bahrain is the main danger, not because it is intrinsically important, but because it could trigger intervention by Saudi Arabia," said Faysal Itani, a Mid-East expert at consultants Exclusive Analysis. "We have heard reports that the Saudis have already dispatched troops and equipment to put down the uprising".
Up to 20 people may have been killed in Libya's "Day of Anger" as the Ghaddafi regime faced its first big threat, while there was a fifth day of violent clashes in Yemen. Iran's plans to send two warships through the Suez Canal to bolster its Syrian ally led to hot words with Israel, notching up tensions further.