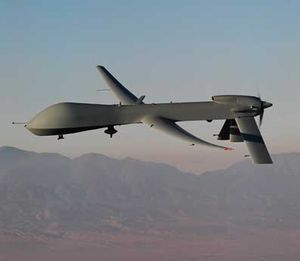 In the world of weaponry, they are the sexiest things around. Others countries are
desperate
to have them. Almost anyone who writes about them becomes a groupie. Reporters exploring their onrushing future
swoon
at their potentially wondrous techno-talents. They are, of course, the pilotless drones, our grimly named
Predators and Reapers
.
As CIA Director, Leon Panetta
called them
"the only game in town." As Secretary of Defense, Robert Gates
pushed hard
to up their numbers and increase their funding drastically. The U.S. Air Force is
already training
more personnel to become drone "pilots" than to pilot actual planes. You don't need it in skywriting to know that, as icons of American-style war, they are clearly in our future -- and they're even
heading for
the homeland as police departments
clamor
for them.
They are relatively cheap. When they "hunt," no one dies (at least on our side). They are capable of roaming the world. Someday, they will land on the decks of aircraft carriers or, tiny as hummingbirds, drop onto a windowsill, maybe even yours, or in their hundreds, the size of bees, swarm to targets and, if all goes well, coordinate their actions using the artificial intelligence version of "hive minds."
"The drone,"
writes
Jim Lobe of Inter Press Service, "has increasingly become the [Obama] administration's 'weapon of choice' in its efforts to subdue al-Qaeda and its affiliates." In
hundreds of attacks
over the last years in the Pakistani tribal borderlands, they have killed thousands, including al-Qaeda figures, Taliban militants, and civilians. They have played a significant and growing role in the skies over Afghanistan. They are now loosing their missiles
ever more often over
Yemen, sometimes
over Libya
, and
less often
over Somalia. Their bases are spreading. No one in Congress will be able to resist them. They are defining the new world of war for the twenty-first century -- and many of the humans who theoretically command and control them can hardly keep up.