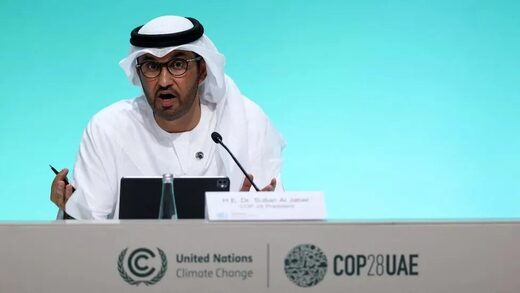 The president of Cop28, Sultan Al Jaber, has claimed there is "no science" indicating that a phase-out of fossil fuels is needed to restrict global heating to 1.5C, the
Guardian
and the Centre for Climate Reporting can reveal.
Al Jaber also said a phase-out of fossil fuels would not allow sustainable development "unless you want to take the world back into caves".
The comments were "incredibly concerning" and "verging on climate denial", scientists said, and they were at odds with the position of the UN secretary general, António Guterres.
Al Jaber made the comments in ill-tempered responses to questions from Mary Robinson, the chair of the Elders group and a former UN special envoy for climate change, during a live online event on 21 November. As well as running Cop28 in Dubai,
Al Jaber is also the chief executive of the United Arab Emirates' state oil company
, Adnoc, which many observers see as a serious conflict of interest.

Comment: And what of the conflict of interest of the vast majority scientists whose funding is reliant on institutions that require research that supports the net zero agenda?