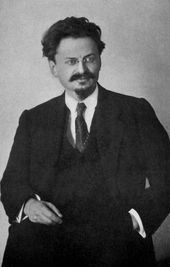 Complete hostility has been declared between the orthodox wing of the Russian Communist party and the leaders of the Opposition.
It was announced in Moscow yesterday that Trotsky and Zinovieff had been excluded from the party, and that eleven other Opposition leaders had been expelled from the Central Committee. Trotsky and his supporters are defiant. The indications are that the repression of their activities by the absolutist and all powerful governing authorities will be ruthless.
The expulsion represents a decisive step toward the placing of the Opposition outside party legality, and guarantees that no Opposition voice will be heard during the party Congress.[Their] aggressive activity in holding demonstrations during the revolutionary anniversary celebration and organising meetings of "conspirators" induced the Central and Control Committees to take immediate action.
Trotsky and Zinovieff will only be able to conduct an illegal political agitation, which may end in their imprisonment. Considering the implacable character of the fight between them and the orthodox wing, it would seem they are afraid of nothing and will continue to struggle.