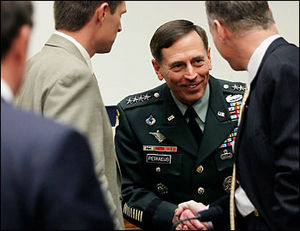 President Obama
removed
Gen. Stanley A. McChrystal
as commander of U.S. and NATO forces in Afghanistan on Wednesday, moving quickly to restore the unity of his administration's war effort after the general and his top aides disparaged civilian leaders in
biting remarks
in an explosive magazine article.
Obama named
Gen. David H. Petraeus
, the former commander of U.S. forces in Iraq and currently the head of the U.S. Central Command, to replace McChrystal and urged the Senate to confirm him promptly.
But Obama reaffirmed in blunt terms the counterinsurgency strategy he ordered last year, and he said that "war is bigger than any one man or woman, whether a private, a general or a president."
A senior military official said it has not yet been determined whether Petraeus's move to take charge in Afghanistan will be permanent.