Comment:
It seems as though Mubarak's comatose situation has become a bit of a mystery. This story has been picked up by
CBS News
, stating that the Germans are rejecting the rumors of Mubarak being in Germany at the present time. SOTT will continue to update this story as it progresses.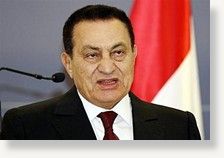 We have learned through
foreign sources
that Hosni Mubarak was flown this morning to a Baden hospital in Germany after falling into a coma. The report was confirmed this morning by
Bahrain daily Al Wasat
who indicated that just prior to leaving for his resort in Sharm-el-Sheikh, Mubarak became comatose.
Apparently, prior to delivering his last speech on national Egyptian television, we also learned that Mubarak had fainted. This is the explanation given for the delay between the announcement of his anticipated speech and his actual appearance several hours later.
His fragile state of health was also cited as the reason for which the army did not insist that he leave earlier.