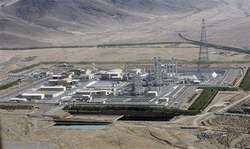 The assassination of Iranian nuclear scientisis, a computer virus, and international sanctions have been put as reasons for the delay.
Israel has revised downward its assessment of when Iran might acquire nuclear weapons.
Israel believes that Iran will not be able to produce a nuclear bomb before 2015. That is the assessment of the outgoing head of Israel's Mossad intelligence agency, Meir Dagan, in a briefing published on Friday. Previous Israeli estimates suggested that Iran could have the bomb in a year or two.
Dagan based his revised assessment on several factors, including sabotage, domestic unrest in Iran, the bite of international sanctions and technical difficulties.
Israeli analyst Gerald Steinberg says one problem is foreign sabotage, such as the Stuxnet computer virus, which invaded Iran's nuclear facilities. It is widely believed that the virus was planted by Israel.