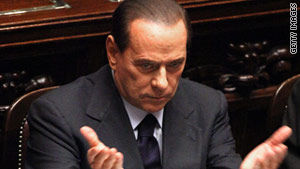 Vatican City - Premier Silvio Berlusconi came under increasing criticism Friday from the Catholic Church over his dalliances with young women, with the pope saying officials must offer good moral examples and Italian bishops planning to discuss the scandal.
Pope Benedict XVI didn't mention the scandal or Berlusconi by name. But during an audience with Rome's police chief and police officers, he said public officials must "rediscover their spiritual and moral roots."
"The singular vocation that the city of Rome requires today of you, who are public officials, is to offer a good example of the positive and useful interaction between a healthy lay status and the Christian faith," Benedict said, echoing more direct comments about the scandal a day earlier by his No. 2.
Prosecutors have placed Berlusconi and three associates under investigation, alleging he paid for sex with a 17-year-old girl nicknamed Ruby and used his office to cover it up. Prosecutors have said Berlusconi had sex with several prostitutes during parties at his Milan estate.