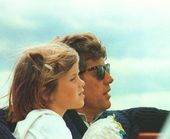 Like Rome, the US is forever scarred by murder. In our lifetimes, the best and brightest are snuffed before our very eyes by the cowardly, unseen, shadowy exercise of pure evil and rotten ambition.
Those who benefited most from JFKs murder are most certainly guilty of it
.
JFK tried to strip the power of the FED, abolish the Oil Depletion Allowance, and 'smash the CIA into a thousand pieces'. No President since has dared to piss off so many powerful and ruthless people.
Qui bono
?