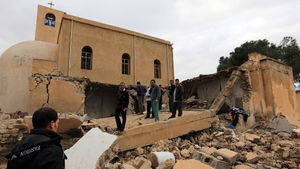 The UK and US are removing some diplomatic staff from Libya amid political unrest throughout the country. Professor Mark Almond told RT that the spike in violence is mostly due to Libya's state of disorder - which has worsened since Gaddafi's overthrow.
The US State Department said that it has
"approved the ordered departure of non-emergency personnel from Libya."
It said that the US embassy in Tripoli would continue to remain "open and functioning."
A spokesman for the Foreign Office said that Britain's embassy is temporarily withdrawing a small number of staff - most of which "work in support of government ministries which have been affected by recent developments."
Those "recent developments" refer to an increase in violence which was sparked after two ex-rebels besieged two ministries last month over a law that would ban officials who served under former Libyan leader Muammar Gaddafi.
Since then, gunmen have surrounded the Libyan foreign embassy and Benghazi has been the target of bomb attacks which left a police station damaged.
Mark Almond, an international relations professor at Turkey's Bilkent University, says the violence is largely to do with the country's chaotic state, as well as a power struggle regarding who should control the country's oil and gas industry.